Six Flags Fright Fest at The Great Escape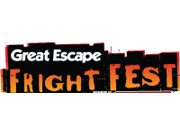 1172 State Route 9
Queensbury, NY
Details
Average Review

Scare Factor

Very Scary

Appropriate For

Fright Fest at night is not recommended for children under 13 or anyone who scares easily.

Organization Type

Commercial / For Profit

Listing Categories

More Info

Outdoor Event(s)
The park is family-friendly by day, but we turn up the terror at dusk! Don't come to Fright Fest unprepared — it's not for the faint of heart.
Mazes:
Real terror. Real thrills. Real mazes. If you get lost, no one can hear you scream, for help. Only the bravest of souls dare to enter our haunted mazes. You'll be blindsided by darkness as you find your way through the labyrinth while being hunted — never knowing what is lurking around the next corner. Are you ready to face your worst fears?
Aftermath: The infection is spreading at a rapid rate! The first documented case of AFV—Aftermath Virus—was at The Great Escape. It has been said that AFV had started as an airborne infection, but there has been no scientific explanation. Since the first case of AFV the number has tripled. The first signs of AFV are lesions on the skin, spikes in temperature, defecation and projectile vomiting. Total transformation is reached 48 hours after the first sign of infection. The Aftermath Zone has been completely overrun by infected walkers looking for their next meal. Deprived zombies have been known to mutilate their food, removing their preys' insides and keeping the bones as a savory snack. DO NOT…we repeat DO NOT seek shelter in any of the containers, as there's no telling what dangers lurk inside.
Nightmare at Crackaxle Canyon: Go ahead and ignore the warning signs in this black hole of death, we dare you. There's a haunted mine with quite a history. One October day, a huge explosion occurred, trapping miners inside. Though rescuers tried valiantly to rescue the men, eventually it was decided that nothing could be done. They were left to die, forever entombed in the mine.
All of this was discovered by an archaeologist who lowered himself into the mineshaft looking for the remains of the mine's men who had been left behind. Unfortunately he could not find his way back out. Alone in the dark, he began to change, driven mad by solitude. And now it is your turn. You have been warned of all the misfortune that has befallen those in this mineshaft, but we know curiosity will bring you right to the mouth of it. Guests who enter this haunted mine shaft will encounter walls lined with the carcasses of those that couldn't be saved and insane archaeologists driven mad after years of being trapped in this black hole of death. Go ahead and ignore the warning signs, we dare you.
Total Darkness: Everyone deserves a life of fulfillment, and the teachings of The Leader will guide you to this place. Will a journey into total darkness help shed light on your soul? Discover the secrets of your mind through The Leader's proven techniques. The Leader is looking for new believers to join his group. Follow his instructions and enter the compound where, through the science of sensory deprivation, The Leader will help you free your mind and understand your true potential. The after effects will be something you never thought possible.
What joys and what horrors do we hold within? Are your memories and your fears real or imagined? If one cannot see, do the other senses become sharper to help discover life's truths? And are you prepared to process that which you will learn? At the end of your journey, you will come face to face with The Leader. He expects you to learn. He demands your dedication. You will believe in his science. His is the only way. See if you can find enlightenment in Total Darkness.
Skull Manor:
The Landons rarely had visitors, and when they did, their friends went missing. Care to join them? The manor on Skull Street was the largest house on the block. The previous owners, Mr. and Mrs. Landon, had moved out years ago and the house was never revisited. As an aspiring house flipper, Jeffrey bought the estate in the hopes of renovating the abandoned property to make it beautiful to sell for big bucks.
Jeffrey entered the house to begin his construction project and found bloodstained walls, rodent and bug infestations, and mold and cobwebs growing in the corners. He cleaned the mess and worked overnight to complete his renovation. Neighbors often complained about hearing Jeffrey's construction tools in the middle of the night, but one night, they heard something completely different coming from the house: screams. They thought the builder had hurt himself so they rushed over to check on him, and found him lying dead in the kitchen with a nail through his heart.
As neighbors and police roamed the house for clues, lights began flickering and doors and windows were locked. Lamps were knocked over and fire spread throughout the house, completely burning all the occupants inside. Now, at The Great Escape, you can tour the classic mansion to explore the unfinished renovation and the fire damage, but remember—the Landons won't like it when you try to escape.
Scare Zones:
Thrills at every corner. The great escape's scare zones ensure the you never catch a break from the frights. As you walk throughout the park, be prepared as you enter the next scare zone. You're just trying to pass through, to get to the next ride or maze, but NO! First you must come face to face with elusive bloody-thirsty creatures as they hunt down their next victims. Hopefully you'll make it through to tell the tale!
Shows:
Ghouls? Zombies? Dancing monsters? Come see it all. Never before has six flags offered so many different live performances during fright fest. Our Fright Fest shows will leave you howling for more.
The Awakening: It looks like a parade, but is "The Awakening" really a funeral procession? Dr. Jones was a friendly family physician in a small town near Lake George. His patients trusted him and would often come to his house for assistance. The only problem, however, was that after a patient visited Dr. Jones, they were never …
Medusa's Survival Test: Join in the fun with this creepy, night time version of our fantastically fun Halloween stage show. You'll just freak out during Medusa's Survival Test. This high energy, audience participatory, humor filled Halloween magic show will ignite your senses. When the sun goes down, that's when the show really dials up the gruesome fright! Take …
Dead Man's Party: At Dr. Fright's friendly neighborhood costume party, the zombies and ghosts may actually be real. Every October, Dr. Fright holds what seems like a friendly neighborhood Halloween costume party. Local townspeople have no idea that the costumed zombies and ghosts are actually real—his creations crafted from murdered patients. He holds the Dead Man's Party to …
Rides:
These Rides Show No Mercy! The Great Escape is known for pulse-pounding coasters that deliver intense thrills all season, but these rides ramp up the fear during Fright Fest.
The Demon Witch: They all agreed she was evil and had to die. She cursed them all that October night. Now she has returned. It was agreed by all that she was evil and must die. They dragged her to this spot, over 150 years ago, and tied her to a post. Screeching and calling people by name,
Creatures of The Comet: Beware of what lurks The Comet, creatures have been known to attack riders at the depths of this ride's descent with a dark hunger. Staff members at The Great Escape have reported seeing animals, of some sort, but these crass creatures are so quick and so secretive, that staff can't make out what they are.
Supernova Siren Song: There's no melody. Maybe it's just laughter. Or a sad distant cry. But no man can resist the Sirens. Extreme Supernova can be an exceptionally dangerous place to hang out at night. It seems safe enough — nestled in the back of the park, far away from the loudest screams of terror. Don't be fooled.
Email Haunt Owner
All photos and videos within this listing are the property of Six Flags Fright Fest at The Great Escape
Recent Reviews
Email Verified

I Love This Place

This is what got my start in this industry, so I owe a lot to it because this is my passion. I love the Great Escape all year round, but Fright Fest makes it that much better. Haunted houses and rides in the dark is all I really need to say. Actors have great energy and atmosphere is great.

| | |
| --- | --- |
| Scare Factor: | |
| Fun Factor: | |
| Haunt Value: | |

Posted April 2018
You Might Also Be Interested In...
All information on this page was submitted to New York Haunted Houses and was believed to be accurate at the time it was posted. Please report any inaccuracies
here
.