Demon Acres Haunted House & Hayride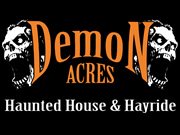 341 County Route 36
Hannibal, NY
Details
Average Review

Scare Factor

Very Scary

Appropriate For

All ages

Organization Type

Commercial / For Profit

Listing Categories

More Info

Snacks & Refreshments, Outdoor Event(s), Indoor Event(s), Touching Allowed, Free Parking
Demon Acres sits on 25 rural acres in Hannibal, NY. We currently feature three Haunted Attractions, Jail Break, Demon's Den and Depths of the Dark Forest. These attractions feature High Tech Special Effects and Hollywood Quality Sets to provide you with the scariest time possible. Don't miss our Insane Asylum Attraction! Experience true insanity! Join us at 341 County Route 36 in Hannibal, NY to celebrate the Halloween Season with some of the most terrifying sights in New York State.
Jail Break:
You are herded onto a bus by the screaming guards. You're handcuffed and taken to the most notorious jail in the state. The guards release you to the general population that just happens to be in the middle of a riot! The inmates are angry and they're coming for you! There is no way out! Can you escape the terror?
Demon's Den:
Step into this horrifying shack where everything and everyone is possessed by demons. Behind every door and down every hallway is a new terrifying experience. Will you survive the all new Mineshaft Maze? You may even see your own tortured spirit lurking in these cursed halls. Can you make it through without becoming one of the possessed?
Depths of the Dark Forest:
This is no walk in the woods. Once you board your wagon you will head into the mouth of the evil forest. In these fear filled woods you will encounter demented and deadly hillbillies, witches that want to steal your soul and deadly creatures that want nothing more than to see the fear in your eyes as they torture you! And if you escape them, what hides around the next turn?
Email Haunt Owner
Schedule
October 2019
Su
M
Tu
W
Th
F
Sa
1
2
3
4
5
6
7
8
9
10
11
12
13
14
15
16
17
18
19
20
21
22
23
24
25
26
27
28
29
30
31
Payments Accepted: Cash
- event open dates
Event last updated 308 days ago. Please confirm dates on
haunt website
before you go.
All photos and videos within this listing are the property of Demon Acres Haunted House & Hayride
Happy Halloween by Joy Messerschmidt

Dear Demon Acres, The Family Disney Movie Series to darkweb was on show yesterday as, "Walk This Way, Happy Halloween" Directed by Joy Messerschmidt. Now what I want you to know is I am an ordinary fan named Joy Xinhan Messerschmidt, so it could not be me. I am from Wanaque, New Jersey and I visit the world often in other nations due to family cash on that airline level. My grandfather "Nicholas Messerschmidt" is from Farleigh Dickinson College and is considered a CIA elite. I got accepted to the CIA in Spackenkill High School by 2004 till 2008 through my grandfather finagling the Geneva connection. See, I am not a star. I love stories and I love fanfiction. But I am simply a fan. It must be a "clone" up there on that stage or movie series. My family due to this movie series to disney is having parties and mocks on my street 429 stolpe avenue in paris, new york; from 2020-21st century; we're having mocks of zandromeda spaceships where we will let kids say the real or fake line to making it better on our old home town road street ;we're selling the costumes, junk foods, toys, and sets or scenes to getting several levels off the mock of Zandromeda done by the weirdo uncle Thomas Rengagorff (Messerschmidt); we also hooked several "runways" "highways" "cheatways" to new york to nutcracker worlds, and halloween and holiday worlds to overcome how we were mocked to showing power. Sincerely, Joy Xinhan Messerschmidt

| | |
| --- | --- |
| Scare Factor: | |
| Fun Factor: | |
| Haunt Value: | |

Posted August 2020

Happy Halloween by Joy Messerschmidt

Dear Demon Acres, After going to Saint Joseph's Hospital as an outpatient in Syracuse, New York with every four weeks a shot of Prada Sustenna Invega which is an elixir in water that whistles and calls back "youth". So I am better now that I remember that in Le Moyne College I was multi-entryed into Future Hogwarts, Pendragons' School, and Artemis Fowl Computer Programming School. I hang out at home with nothing to do but to go online and make wishes at my grandparents who are slowly losing life and dying but I can not be there. My parents are famous, but my friends say I got their ugly features combined and that's why I am not famous. I just want to tell you that Donald Trump who used to run Miss Teen America show--now Bien Bien Biened (changed into) a wicked power player who shut down the holidays admitting Pope Francis crazy for coming up with it in a past lifetime calling it cake calendars. There is no christmas; there is no Halloween; not anymore due to Trump as President. Some fan societies like mine still keep the calendar and recognize the Holidays and keep the costumes for the kids as toys. I'm here talking to the moon and trying to buy gifts online for my great grandchild as Prince George of Cambridge. As you know my family the Messerschmidts owns the Green Destiny USA Mall, and I am the new manager to it and just called for a supply of futuristic toys for kids in Paris, New York and lower Syracuse, New York. I reviewed my crazy childhood, and my crazy streets, even sometimes talking to a memory pretending. "Let's go on the weekend, if you don't love me pretend." The Covid-19 virus sexually transmitted from the cursed is over with and a distant memory. The new thing now is going to the rich beaches where the rich house their handsome sons to entertaining them with volleyball or even beer and wine and american junk food meats and candy. I review the memories of childhood. I made it a movie series to some lower label, "Walk This Way, Happy Halloween." Then I think back on; Demon Acres like the last time that Dana Fanta Leight ever smiled and chuckled; before that I conned ten years of conversation at Mcdonalds and Burger King--and he thought it was tiny shits. But I want to know; where did all those beautiful friends go... there were so many that I couldn't or would not choose just one mate for life. I dunno; I feel like I am liberal. I know that my dad's evil girlfriend Sian Feng has asked to date my close friends... spending their reputations and breaking them in the spiritual sense but he says "Joy? Joy, she's tiny shit and ugly." so she's since given up hope and dated Kassandra's and Juliet's close boyfriends instead. But every night she does ask my divorced dad as Dana Fanta Leight and everytime he explains I didn't grow past thirteen and is just tiny shits. It's like they both hunt apache indian for the dreams of beautiful children and wear their blood dreams and skin dreams as clothings. My real parents are from Shanghai, China as Ni Go Go and Ni Go Ma...but they sent me to America to getting a good education with a host family...nearly a Jim Carrey Plot twist really... that they both really are that nephilim evil. But bitch I really can't complain because they respect me in the life so much and give me three meals every day; and I got invited to red carpet once...oscars... and made New York Models as a label. Sincerely, Joy Messerschmidt

| | |
| --- | --- |
| Scare Factor: | |
| Fun Factor: | |
| Haunt Value: | |

Posted August 2020

Zandromeda:Happy Halloween by Joy Messerschmidt

Dear Demon Acres, I went again with Dana Fanta Leight as my older brother that I am in love with... he's a little bit retard but sometimes people mix it up and assume him genius. You know it's such a gift who he is... so I went with Demon Acres and the Hayride for kids because he can not be scared too hard. The conversation sort of went like this: Dana: "What time is it?" Joy: "October 31st, 2019 at night." Dana: "A time of gays, lesbians, transexuals, when they get frisky." (grabs ass in the air) Joy: "This is the Halloween Hayride." Dana: "I'm dressed. Deviled Satan attire indeed. You're dressed. Like a wiccan witch in black." Joy: "This is the black tied affair...a public affair." Dana: "This is a story. I like this story. A dream between that and this." Joy: "Forever is a long, long time, baby." (lights a cigarette and smokes) Dana: "We could always make pumpkin pie a lipstick or candle." Joy: "Yeah, you're always thinking. Yo, what's the name of that..." Dana: "Happy Halloween." Joy: "Happy Halloween, may luck be yours." Dana: "They always sex on Halloween, and get married by Christmas." Joy: "Dana, Daiya let's wish it forever rich Halloween in America, New York in Autumn during Harvest on October, 31st 2019 let's never let it go. I want to." So that was the hayride conversation. I want him to grow mentally and physically but he hasn't. I'm the youngest in the family and I grew up to twenty but he's the oldest and still hasn't grow up but looks about eighteen. I know he says Johnny Depp as a cursed picks on him in dreams or "it wasn't"... I'll give more updates on the conversations; they are dreamy or dream lark like. Sincerely, Joy Messerschmidt

| | |
| --- | --- |
| Scare Factor: | |
| Fun Factor: | |
| Haunt Value: | |

Posted July 2020

"Walk This Way, Happy Halloween" Joy Messerschmidts

Dear Demon Acres, "Stay with me; If you still love me." I am directing a fanfiction movie series based on the lifetimes written by Dana Fanta Leight called, "Schmidty, These Fragile Times..."; The movie is going to be named, "Walk This Way, Happy Halloween" based on a family who is beauty, power, intelligence, magic, and they always got what they wanted. A bit of shameless self advertisement. The hayride was decent. I enjoyed the caramel apples on a stick, with the candy and cooked venison served. Though no one has really sung my lines or said them except for me. The focus of the movie is going to be the limelight of how the family partied into being famous and by 2019 enters the space race with aliens through Zandromeda. The hayride was crisp wind; and I remember everything DanaFanta Leight said, "It's Halloween, Joy, Give me a kiss." and I said, "Promise me lips." Tis strange how the world changes. But remains the same at the top. Give me the quintessence of Love; give me the turniquet of Wine; give me the wealth of the world; give me one answer that i like; now receive me.

| | |
| --- | --- |
| Scare Factor: | |
| Fun Factor: | |
| Haunt Value: | |

Posted July 2020

Walk This Way, Happy Halloween by Joy Messerschmidt

Dear Demon Acres, I love the ride, and the boys were nice. I survived within an eight inches of my life. I liked the pumpkin smiley faces that's a new concept. But if you imagine with me this; you never explained (mysteriously) how to survive in a rich home like the fan kids game "Clue" where you count your steps in a superrich house based on the moves of the heart of what you give your friends through cash; why is it only a poor house that even India niggers and siggis can survive in expertise as the maharajas employees;what about the fan kids game that famous kids play known as "CandyLand" based on kids cash "candy" to the rich middle class;I believe something there. The lower class games are really based on Barbie and Ken; the fan girls and boys idol Dolls. Next time, maybe use the wealth with a Wiccan imaginaire designer through one magic spell to build a whole country of Architecture based on my IDEAL of "Cheesepop" which was going to be the original title of my movie series but it got changed due to some sad unforeseeable events so we make do I guess... the lesson of poverty is more what they do in the future with the soul everyone wants to be rich; and somebody said Halloween is just that... but don't hurt my feelings on the matter. Sincerely, Joy Messerschmidt

| | |
| --- | --- |
| Scare Factor: | |
| Fun Factor: | |
| Haunt Value: | |

Posted July 2020

Happy Halloween (Disney) by Joy Messerschmidt

DEAR DEMON ACRES, I HAD A SCARY TIME. HAPPY HALLOWEEN! I ENJOYED IT. SINCERELY, JOY MESSERSCHMIDT PS. MY LIFETIMES IS THE BEST.

| | |
| --- | --- |
| Scare Factor: | |
| Fun Factor: | |
| Haunt Value: | |

Posted June 2020

Email Verified

Highly Recommend

All 4 attractions were absolutely awesome!!

| | |
| --- | --- |
| Scare Factor: | |
| Fun Factor: | |
| Haunt Value: | |

Posted October 2019

Email Verified

Love this haunt

This place is in the middle of nowhere but that is exactly why this place is awesome. Hayride is great (xmas anyone?). The haunted house goes on and on and is creepy. Prison escape is killer. Great fun and great price!!

| | |
| --- | --- |
| Scare Factor: | |
| Fun Factor: | |
| Haunt Value: | |

Posted October 2019

Email Verified

No better way to spend a evening

The time and effort that must have been put into this place shines thru the minute you first see it. Everything is first class, from the sets, props, even the food is great,, the actors what you to have a good time, and the fire pit is a great spot to end your evening after taking in everything this place has to offer....

| | |
| --- | --- |
| Scare Factor: | |
| Fun Factor: | |
| Haunt Value: | |

Posted October 2019

A must do

I've been to Demon Acres for a few years now... The setting is amazing .... The staff is so friendly and helpful and they play their parts so well!!! All 3 exhibits are great! Best around! And the price is very inexpensive!! I would recommend going to Demon Acres! You won't be disappointed!!

| | |
| --- | --- |
| Scare Factor: | |
| Fun Factor: | |
| Haunt Value: | |

Posted October 2019

Love this place

I have gone several years in a row and it just keeps getting better... We have been through all the attractions and the actors are great....full menu but loved the chili and tenders...would recommend to everyone...

| | |
| --- | --- |
| Scare Factor: | |
| Fun Factor: | |
| Haunt Value: | |

Posted October 2019

Email Verified

Jail Break

Never been handcuffed, ill tell you that was automatically scary to me , not being able to freely move my arms. And when we exited the house and zig zagged the fences with the clowns in every corner, i almost peed myself ! Clowns are my worst fear, my friend almost used the emergency exit! ??

| | |
| --- | --- |
| Scare Factor: | |
| Fun Factor: | |
| Haunt Value: | |

Posted October 2019

Fantastic

This was a wonderful haunted house, great actors. Even with the staff I lost my keys on the hayride thank you very much for taking the time helping me find my keys bring it was late and I'm sure your where ready to go home.

| | |
| --- | --- |
| Scare Factor: | |
| Fun Factor: | |
| Haunt Value: | |

Posted October 2019

0 out of 1 found this review helpful
Demon Acres Haunted House & Hayride
All information on this page was submitted to New York Haunted Houses and was believed to be accurate at the time it was posted. Please report any inaccuracies
here
.