RISE of the Jack O'Lanterns at Old Westbury Gardens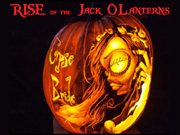 71 Old Westbury Road
Old Westbury, NY
Returning for the sixth year in a row on Long Island is the most iconic, truly unique, family-friendly fall event, RISE of the Jack O'Lanterns! Come see 5,000 hand-carved illuminated jack o'lanterns creatively arranged along a scenic walking path and set to a musical score designed to bring out the fall spirit in visitors of all ages!
This year, we're bringing back some of our fan-favorite classic themes PLUS we'll be introducing some never-before-seen creations that are sure to wow both returning RISE fans and RISE newbies alike!
Multi-Pumpkin Structures
See our iconic multi-pumpkin structures that consist of dozens of illuminated jack o'lanterns assembled into life-sized pieces of art. You'll see classic fan-favorites like life-sized dinosaurs and dragons along with dozens of new characters and displays ready to steal the show.
Legend has it that the ghosts of an old biker gang are sometimes seen rumbling down the garden roads on their Hogs at night spitting flames from their exhausts, so keep an eye out for them. We'll have our new 40-foot 300+ jack o'lantern fire truck on stand-by just in case.
Intricately Painted & Carved 100+ Pounders!
See over FIVE DOZEN intricately carved 100+ pound pumpkins on display! These ephemeral works of art are meticulously hand-painted and hand-carved by dozens of artists who put upwards of 20 hours of work into each pumpkin to make them perfect for your enjoyment!
5,000 Fresh Real Pumpkins Carved Each Week!
The RISE is the only event in the country which carves 5,000 fresh REAL pumpkins EACH WEEKEND! For you jack o'lantern mathletes out there, that's a total of 20,000 jack o'lanterns carved from fresh real pumpkins over the course of 4 weekends! Each one weighs about 20 pounds so that's about 400,000 pounds of pumpkins (200 tons) we'll go through during the month! It takes about 75 people, over a two-day period each week, to carve and place all 5,000 and then remove them all on Monday morning! Yes, we do have a few hundred carveable artificial pumpkins in our display, because some of our carvers prefer them, but those are in addition to the 5,000 jack o'lanterns carved from fresh real pumpkins each week!
3D Sculpted Pumpkins!
We're bringing in one of the top pumpkin sculptors in the country to carve a dozen of the most draw-dropping externally carved pumpkin sculptures you'll ever see! You'll find them along the trail submerged in a super-secret-preservation-solution so they'll be preserved for the entire month of October!
Live Carving Demonstrations
Want to see some of our carvers in action? Check out our live carving demonstrations going on in the main tent when you arrive or before you leave. We'll have a few of our top jack o'lantern artists carving live and answering your carving questions so you can take that knowledge home and make your doorstep jacks the envy of the neighborhood.
The RISE Pumpkin Patch
You've asked and we've listened! Visitors are always requesting to buy a pumpkin to take home with them! This year, we're opening up The RISE Pumpkin Patch so you can find and purchase that perfect pumpkin to take home. Just make sure that if you carve it, you send us pictures!
Email Haunt Owner
All photos and videos within this listing are the property of RISE of the Jack O'Lanterns at Old Westbury Gardens
Email Verified

Beautiful illuminated jack o'lanterns

I was there with my kids and they were so much happy seeing the thousands illuminated jack o'lanterns. When I told them that they are hand crafted but they didn't believe me. Then I showed them a video and it was then they believed me. So I could teach them that with hard work they can also put up good show in real life. We were also amazed watching multi-pumpkin structures and 3D sculpted pumpkins Thanks to your entire team.

| | |
| --- | --- |
| Scare Factor: | |
| Fun Factor: | |
| Haunt Value: | |

Posted November 2017

Wow Wonderful!!

Wow Wonderful!!! Would definitely give it 5 stars. There were 1000's of lanterns and all were masterpieces. My heartiest congratulations to the team for their hard work and creativity. It takes so much of effort to put a show like that. I really want to bring my family here and show then this magical experience.

| | |
| --- | --- |
| Scare Factor: | |
| Fun Factor: | |
| Haunt Value: | |

Posted November 2017

Perfect for a family visit

This place is definitely worth going. Excellent artifacts on pumpkins and so many scary characters draw our attention so often. Decent admission fee and perfect for a family visit. Loved it!!

| | |
| --- | --- |
| Scare Factor: | |
| Fun Factor: | |
| Haunt Value: | |

Posted November 2017

Email Verified

Wow.....thousands of carved jack o'lanterns

Amazing place to experience thousands of jack o'lanterns carved on the pumpkins. Perfect horror characters and dragons along with dinosaurs were my favorites. A place to view unique creations and appreciate the hard work of artists. I relished every moment of my visit.

| | |
| --- | --- |
| Scare Factor: | |
| Fun Factor: | |
| Haunt Value: | |

Posted November 2017

What an amazing show

What an amazing show it was!! There were so many lanterns and all were so beautiful. It was my first time there and when I came to know that they are totally handcrafted I was totally surprised. Next time I am going to come with my girl friend and am sure that she is also going to enjoy it very much.

| | |
| --- | --- |
| Scare Factor: | |
| Fun Factor: | |
| Haunt Value: | |

Posted November 2017

Email Verified

Unique experience

Very unique experience. It was worth visiting the 20,000+ jack o'lanterns carved from fresh real pumpkins. My family loved it. The event was so organized and staffs were so friendly. Love to visit again

| | |
| --- | --- |
| Scare Factor: | |
| Fun Factor: | |
| Haunt Value: | |

Posted October 2017

Amazing!!!!!

The creativity and amazing artwork, made out of pumpkins, was so cool the kids even enjoyed it. The Gardens are beautiful even in the dark. It's a must. At least one time to witness.

| | |
| --- | --- |
| Scare Factor: | |
| Fun Factor: | |
| Haunt Value: | |

Posted October 2017
All information on this page was submitted to New York Haunted Houses and was believed to be accurate at the time it was posted. Please report any inaccuracies
here
.