Celebrate Valentine's Day at NYZ Apocalypse's Love Bites Weekend
Home » Blog » New York's Best Weekend Events, NewYorkHauntedHouses.com News and Updates, Press Releases, New York Haunt News
January 28, 2016 By Chelsea T.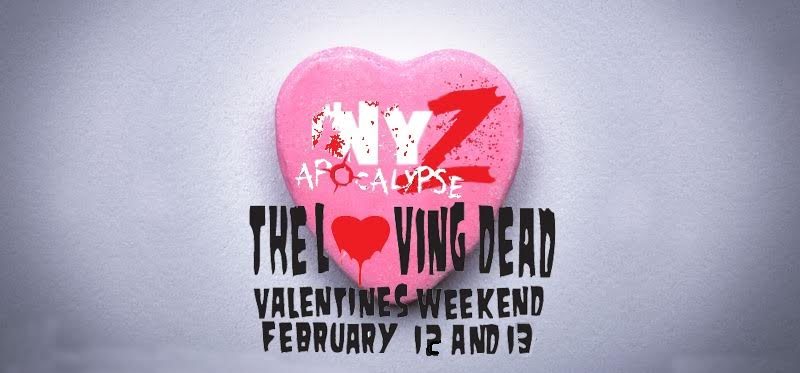 Celebrate Valentine's Day 2016 at NYZ Apocalypse's Love Bites Weekend
Lionsgate and NYZ Apocalypse have teamed up to promote Pride, Prejudice and Zombies!

NYZ Apocalypse, New York's only year round zombie survival experience is at it again with Operation: Holiday.
"It's a plan to use holidays beyond Halloween to market their unique experience to guests who haven't heard about NYZ and to shake things up a bit for reoccurring customers" said Paul Fetkowitz, Owner of NYZ Apocalypse.
NYZ created Santapocalypse in December 2015, an experience themed around creating super soldiers to protect shopping malls during the hectic holiday season. The soldiers went evil and made zombies Santas - Lots of zombie Santas to be exact and due to its popularity, NYZ decided to take on Valentine's Day as well.
So, with rave reviews of Santapocalypse from guests and horror entertainment magazine, Fangoria, how could they not?
For the Valentine's Day Holiday, the shady Apollo Prison System has concocted a chemical weapon to create more love in the world. But again, like all things where man plays God, it goes bad and instead produces zombies who want to not only take you out to dinner, but you into their dinner.
"It's about fun. Not taking it serious and how could you?…You're fighting off zombies who are throwing out cheesy pick up lines, kissy faces and if you let them get close enough….Teeth" said Paul Fetkowitz
"We want people to have as much fun as possible, laugh with their date or friend , get scared and have an overall good time" continued Fetkowitz.
With these event opportunities, NYZ is shifting the focus a bit since they recently had been contacted by Lionsgate about their upcoming film Pride, Prejudice and Zombies. They have teamed up to promote it for this weekend's show on January 29th and 30th. They will be handing out tickets to lucky survivors and other promotional giveaways as well.
The Loving Dead Weekend kicks off February 12th and ends February 13th at NYZ Apocalypse. Tickets are on sale now at www.nyzapocalypse.com