Haunted Houses throughout New York Currently Hiring for the 2016 Halloween Season
Home » Blog » NewYorkHauntedHouses.com News and Updates, New York Haunt News
August 22, 2016 By Chelsea T.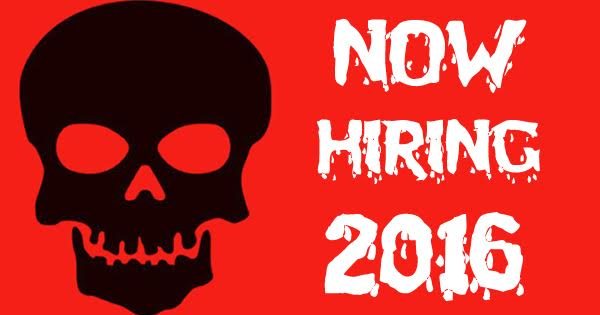 Haunted Attractions take a ton of preparation and effort to be ready in time for the Halloween Season. All those involved in the scary family at a haunt are important in their own way, whether they're giving the scares or working behind the scenes to assure everything goes smoothly, working together is key.
There are a bunch of attractions here in New York that are hiring for the upcoming Halloween Season. From scare actors, to make up artists and crew members, there are a ton of opportunities available at different locations. Take a look below at some of the haunted houses that are hiring for 2016:

Andover Haunted House
5 W. Greenwood St. Andover, NY 14806
607-661-6784

Bayville Scream Park
8 Bayville Ave., Bayville, NY 11709
516-624-4678
Note: Applicants must be 17 years or older & available to work until the end of December. Please apply in person.

Haunted Hendrickson's House of Horror
123 W. Merrick Rd., Valley Stream, NY 11580
516-825-4200

Haunt Manor
9387 Lundy's Lane, Niagara Falls, ON
844-403-7227 or email Phil at info@hauntmanor.com

Nightmares at Liberty Ridge Farm
29 Bevis Rd. Schaghticoke, NY 12154
518-664-1515
NYZ Apocalypse
450 Commack Rd. Deer Park, NY 11729
631-392-4700

Restless Souls Haunted House Complex
301 West Hills Rd., Huntington Station, NY 11746
631-319-9662 | RestlessSoulsHauntedHouse@gmail.com
Note: Restless Souls is also in search of musicians, bands and performers.
Yaphank Trail of Terror
65 Main Street, Yaphank, NY 11980 (Yaphank Presbyterian Church)
631-282-8223
Is Your Haunt Hiring for 2016? Let Us Know!