Village of Vernon Police Find Needles in Halloween Candy of Two Local Children
Home » Blog » Little Ghost & Ghouls Corner , New York Haunt News, Halloween Headlines
November 6, 2017 By Cait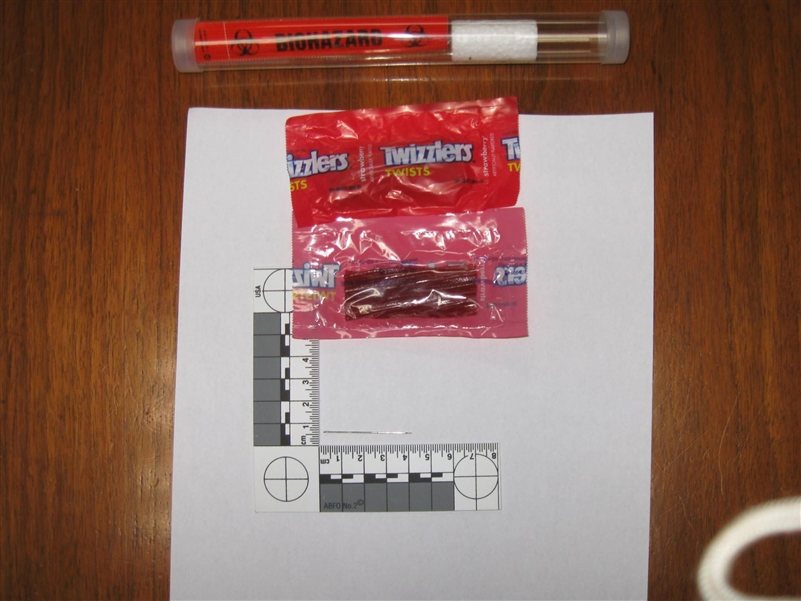 Local PD Issued an Alert After Two Parents Found Needles Mixed In With Their Kids Halloween Candy.
Photo by:
Village of Vernon, NY Police Department, via Facebook.
The Village of Vernon, NY Police Department issued a Public Safety Announcement on November 2nd after two local parents reached out to authorities after finding silver-colored sewing needles in a Twizzlers Package, and near another child's Halloween Candy.
According to authorities, the two victims are not related, and do not know each other, and both incidents are being investigated separately at this time.
One of the victims posted a video of her opening her son's Halloween candy, and discovering a needle embedded in a Twizzler, and according to Village of Vernon PD, she has filed a formal complaint. In the video, she shows the needle entirely embedded in the Twizzler, stating she realized that it was, and then she pops it out to show everyone that it wasn't mold, or a bug, or something natural causing the strange color change in the Twizzler, but an embedded sewing needle.


Police are urging parents to be on alert, and to inspect their children's Halloween Candy before giving it to them, and to remain vigilant. Village of Vernon PD also advise that the "areas of concern" are the neighborhoods of Peterboror Street, Black Avenue West & East, Judson Drive, and Curtis Road. Both vicitims confirmed that the sewing needle (pictured above) is identical to what was found in their children's candy.
If you have any information about these incidents, or you feel you've been a victim of a similar Halloween "prank", the Village of Vernon, NY Police Department urges you to reach out to Officer Green at 315-829-2550 immediately.