Cornell University Opens Largest Witchcraft Collection in North America to the Public Halloween Night
Home » Blog » New York's Local Halloween Fun Guide, Halloween's Hottest Trends, New York Haunt News, Halloween Headlines
November 2, 2017 By Cait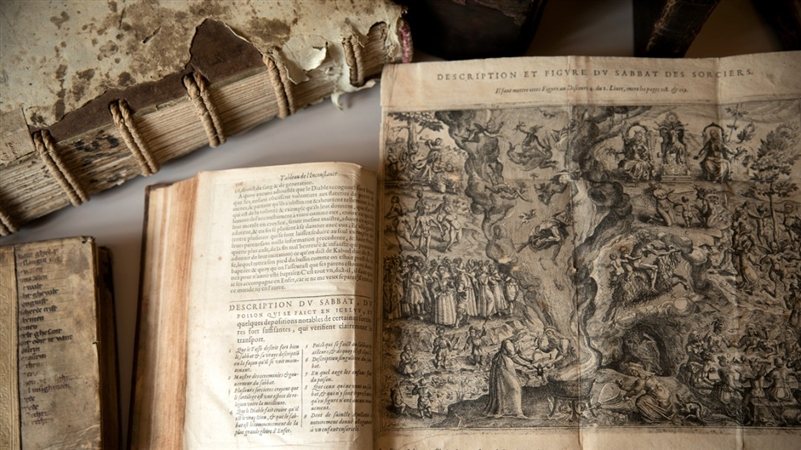 Books on witchcraft from the 15th and 16th centuries housed in the Division of Rare and Manuscript Collections at Cornell University.
Photo by:
Cornell University.
On Halloween Night, Cornell University, located in Ithica, NY opened its doors to the public for "The World of Bewitch'd" Exhibit for the first time - the largest witchcraft collection in North America. The collection, which features over 3,000 objects, including some that date back to the 1400s, is located at Cornell's Kroch Library, and will remain on display now through August 2018.
Although the majority of the items on display were acquired in the 1880s, Kornelia Tuncheva, co-curator of the exhibition, said that they're very relevant in today's modern world, in a statement given to the Cornell Sun. The paper quoted her as saying "There are a lot of accusations of witch-hunting in our present time, and it's really interesting to see how anybody who feels that they are wrongfully persecuted for political, social, religious or whatever reasons, employs the trope of witch-hunting," in an interview about the exhibit published on October 31st.
What's most fascinating about this collection is that it's not just a project that's been worked on by modern Cornell staff and historians - many of the artifacts and books featured in the exhibit were in fact procured by no other than Cornell's founder, Andrew Dickson White, who was an avid collector of rare manuscripts and books. According to the Cornell Library's website, the majority of the collection, which was acquired in the 1880s, was done so by A.D. White, as well as the school's first librarian, George Lincoln Burr, who had the foresight to know that the history of Witchcraft would be one of tremendous importance and significance for generations to come.
Documents included in the collection focus on a variety of topics, including the earliest manifestations of the belief in witches and witchcraft, the persecution of so-called witches in Europe, the Inquisition, witch trial testimony, torture of so-called witches, and a variety of folklore and narratives about witches that gives a fascinating look into the history, ideology, and lore behind the fascination with witches over the centuries.
If you're a history buff, or a lover of fascinating history and lore, then this is one exhibit you won't want to miss.
Can't make it to Cornell to check out the exhibit in person? No problem! They've got a Digital Witchcraft Collection hosted on their website, for those of us who can't make it all the way up to Ithica in time to see the fascinating exhibit.